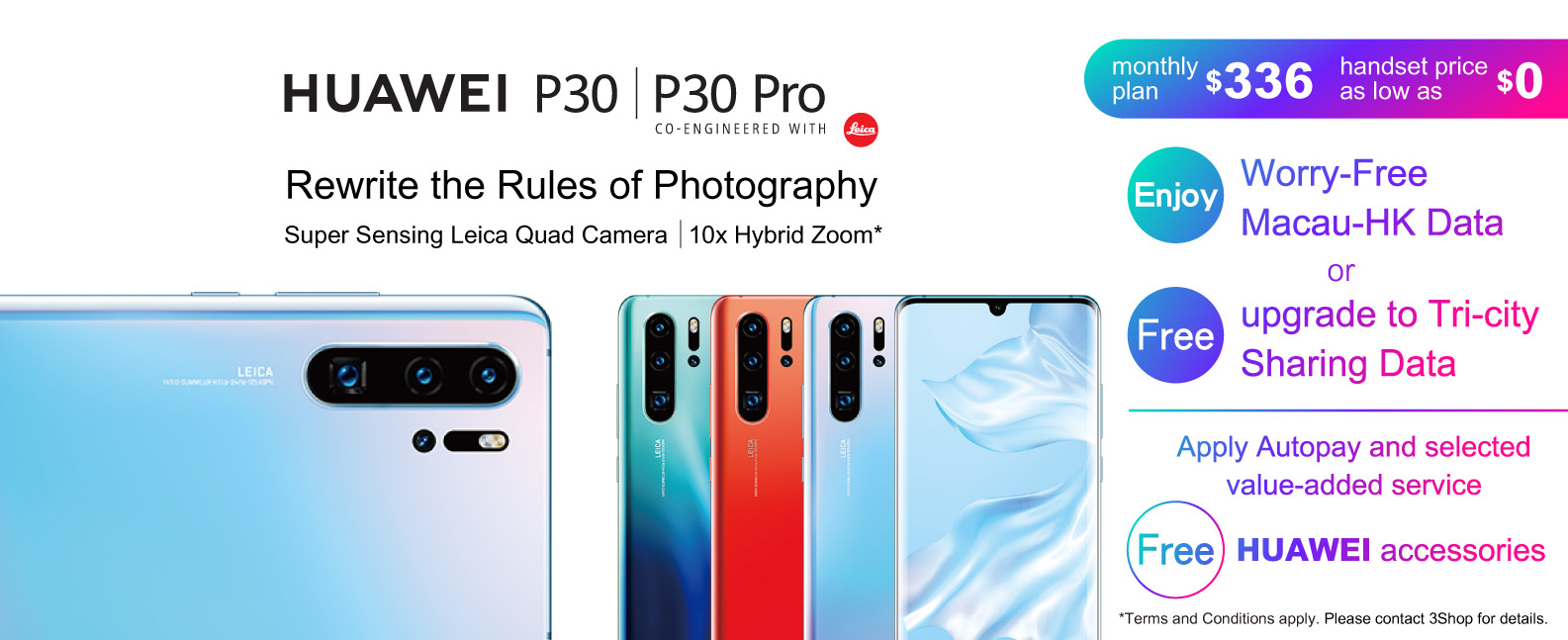 Huawei P30 Series

Monthly Plan 
$166
$226
$336
$446
$596
$886
Fun Sharing
Tri-City


Data Usage (GB)




1.5

3


5

7

18+


Worry Free Data2
38+
Worry Free Data2

Fun Sharing
Macau-HK


Data Usage (GB)

1.5+
Worry Free Data2


3+
Worry Free Data2

5+
Worry Free Data2

7+


Worry Free Data2

20+


Worry Free Data2
40+
Worry Free Data2


 

Huawei
P30 Lite (128GB)


Handset Price
(Prepayment)

$380
($1,920)

$0




($2,280)

Huawei
P30 (128GB)


--


$1,580
($2,880)


$0




($4,440)

Huawei
P30 Pro (256GB)


--


$3,580
($2,760)

$2,380
($3,960)

$1,180
($5,160)

$0
($6,360)

Huawei 
P30 Pro (512GB)

--


$4,580
($2,640)

$3,380
($3,840)

$2,180




($5,040)

$980




($6,240)

$0
($7,200)
 Macau-HK Sharing
Voice / Video Mins  

1,200


1,200


2,400


3,600

5,800


5,800


China IDD Mins

100

200

300

500

700

700
*HUAWEI P30 Pro: 40MP super sensing camera + 20MP+8MP+TOF, 10x hybrid zoom;
HUAWEI P30: 40MP super sensing camera+16MP+8MP, 5x hybrid zoom.
HUAWEI P30 Pro and P30 (256BGB) provide choices of colour for Breathing Crystal, Auroa and Black while HUAWEI P30 Pro (512GB), Amber Sunrise and Aurora.

Apply Auto-pay
AND Desingated
Valued-Added Services

Purchase on Discount

  

Choose 1 out of 3

$698
Original Price $813

$498




Original Price $607

      

$398




Original Price $503

*Premiums are subject to a first-come-first served basis and while stock lasts.
*Designated Value-Added Services include those on https://www.three.com.mo/plan3g?lang=en_US as well as Macau-HK 1C2N, Macau and China Number Service, etc. and new application is required upon subscription.


Remarks:
Customer is required to subscribe to designated monthly plan with designated prepayment amount.
Data speed will be restricted to not less than 384Kbps when accumulated local data usage exceeds 20GB. 
HK roaming data and HK roaming airtime services are provided by 3HK. Customers are required to use network service of 3HK. Otherwise standard roaming rate will apply for using other operators.
Data service shall be temperately suspended after monthly data is used up. Customers can buy one-off additional data via top up service (data usage is valid till the billing cut-off day of the month applied). For detail of top up service, please refer to: 

http://www.three.com.mo/eng/

datatopup/process_4g

 

HK-Macau airtime is counted as local consumption. HK-Macau Inter Voice Mins refers that 3Customer receives incoming calls and makes outgoing calls to Hong Kong or Macau number in Hong Kong. HK-Macau Intra Voice Minutes refer that 3Customer receives incoming calls and makes outgoing calls to 3Macau number in Hong Kong.

 

Roaming Data Daily Pass provided by "3HK"or "China Unicom" is not applicable to the customers who subscribe plans above and the data usage in HK & China will be counted in the shared usage of the monthly plan.

Standard IDD charges of 3Macau will apply if customers finish their free entitlement in the monthly plan.
Standard tariff will be charged after promotional contract expired / ended.

Please contact our staff or call 3Customer Services Hotline for details. 

Hutchison Telephone (Macau) Company Limited reserves the right to change the service charges and details without prior notice. 

If there is any inconsistency between the English and Chinese versions, the Chinese version shall prevail.