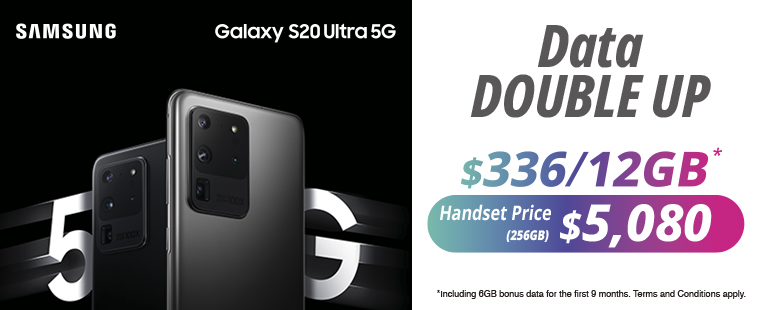 Samsung Galaxy S20 Series
Monthly Plan 
$226
$336
$446
$556
$886
Fun Sharing 
Tri-City


Data Usage




4GB


6GB

8GB

15GB

30GB

 


Worry Free Data Usage*



Data Double Up


for the first 9 months




+4GB

+6GB

+8GB

+15GB

+30GB

 

Galaxy S20

Handset Price
(Prepayment)

$4,580


($1,680)

$2,180


($4,080)

$880


($5,400)

$480


($5,760)

$0


($6,240)

Galaxy S20+

$5,080
($2,040)


$3,080


($4,080)

$2,080


($5,040)



$1,080


($6,000)



$0


($7,080)




Galaxy S20 Ultra
(256GB)

$7,080
($1,800)

$5,080
($3,840)

$4,080
($4,800)

$3,080
($5,880)

$0
($8,880)


Galaxy S20 Ultra
(512GB)


$8,080
($1,680)


$6,080
($3,720)


$5,080
($4,680)


$4,080
($5,640)


$0
($9,720)

 Macau-HK Sharing
Voice / Video Mins  

1,000


1,000


1,000

3,000


3,000


Mainland China Voice Mins

300

300

300

300

300

China Roaming Voice Minutes


300

300

300

300

300
*"Worry-Free Data Usage " will provide infinite data amount at throttling speed not less than 384kbps upon basic data usage is fully consumed.

     


Roaming Data Daily Pass x 7days



Japan, Korea, Taiwan, Singapore, Malaysia, Thailand



MOMAX Charging Pack


(Valued 

MOP $910)


Subscribe $336 or above monthly plan, also


Owl-Hour full speed unlimited data



Applicable for 00:00-07:00 daily


1. The roaming data daily pass is applicable for the mentioned destinations only. Customers can choose to use consectively or individually.
2. The gifts are on a first-come, first-served basis and while stock lasts.

Remarks:
1.
Customer is required to subscribe to designated monthly plan with designated prepayment amount.
2.
HK roaming data and HK roaming airtime services are provided by 3HK. China roaming data service is provided by China Unicom. Customers are required to use network service of 3HK and China Unicom. Otherwise standard roaming rate will apply for using other operators.
3.
When the month data reached, data service shall be temperately suspended. Customers can buy additional data via top up service, please refer to:
https://www.three.com.mo/pags/4G-topup-process
4.
Roaming Data Daily Pass provided by "3HK"or "China Unicom" is not applicable to customers who subscribe the above plans and the data usage in HK & China will be counted in the shared usage of the monthly plan.
5.
Macau-HK Voice/ Video minute refers to incoming calls and outgoing calls which 3customer in Macau/ HK received from/ made to Macau/ HK number.
6.
Mainland China Voice minute refers to incoming calls received from/outgoing calls made to Macau/HK/China mobile number in China or outgoing calls made to China mobile number in Macau/ HK. Standard China IDD/ Roaming Voice Mins charges of 3Macau will apply if customers finish their free entitlement on the monthly plan.
7.
Intra SMS refers to SMS which 3customer in Macau/ HK sends to 3customers.
8.
Owl hour full speed unlimited data is applicable for 00:00-07:00 daily.
9.
The designated destinations include Japan, Korea, Taiwan, Singapore, Malaysia and Thailand. The pass can be used on consecutive or individual basis. Customers are required to activate the International Roaming Service to enjoy the offer.
10.
Standard tariff will be charged after promotional contract expired / ended.
• Talk time consumption of any call and talk time chargeable value-added service will be rounded up to the nearest minute.
• All usage is subjected to 3Macau Service Usage Policy.
• Please approach our 3Shop staff or call 3Customer Services Hotline for more details.
• 3Macau reserves the right to change the contents of the above offers and details without giving prior notice.
• If there is any inconsistency between the English and Chinese versions, the Chinese version shall prevail.