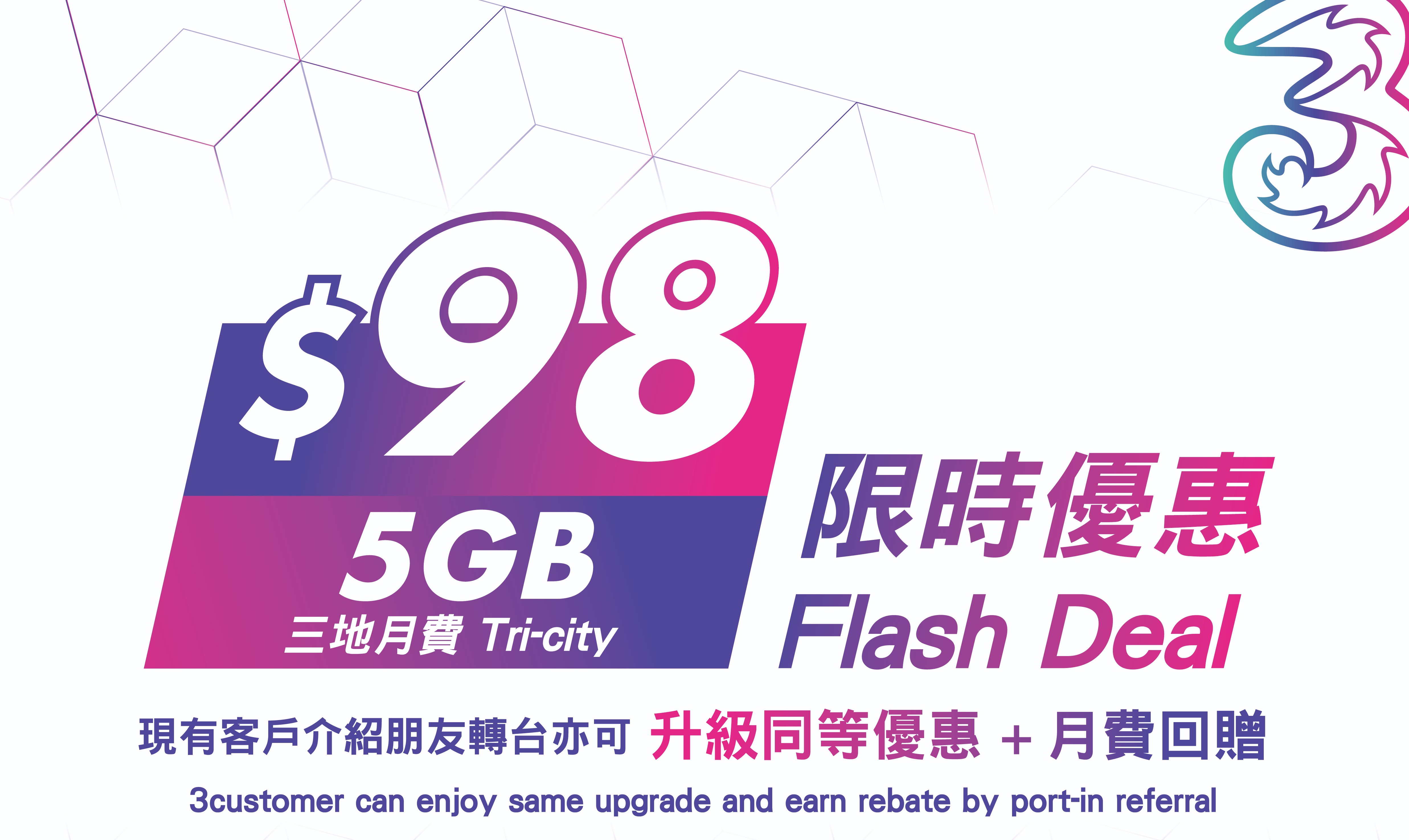 Flash Deal

$98

Tri-city Sharing Data Usage


(Port-in / referrer ONLY1)

5GB

Macau-HK Voice/Video Mins


1200

China-HK IDD  Mins

100

Intra SMS

Unlimited


Owl Hour Full Speed 




Unlimited Data

$28/mth

China Number Service

$30/mth


Free VAS

Caller Number Display, Call Waiting, Call Forward Bundle, Conference Call, Voice Mail


Contract Period

24 Months
1. Eligible for Port-in customers and 3customers who subscribing plan <=$98.
2. Referee (port-in) can apply any valid monthly plan and just need to provide the referrer's mobile number upon plan subscription. Qualified referrer then can contact our hotline 1118 for plan upgrade and earn monthly fee rebate. For referral program detail, please refer here.
3.Customers can either select top-up or thereafter plan. For top up plan, data service shall be temperately suspended and customers can buy additional data via top up service, please refer here. For thereafter plan, thereafter charge will be $0.0008/KB for each mobile number with maximum charge of $500; however, customer can enable EasyPlus Flexible Data Package by free, with which data entitlement will be automatically top-up at special rate once been used up with maximum charge of $398. For EasyPlus detail, please refer here.
4.HK roaming data and HK roaming airtime services are provided by 3HK. China roaming data and China roaming airtime service is provided by China Unicom. Customers are required to use network service of 3HK and China Unicom. Otherwise standard roaming rate will apply for using other operators.
5.Macau-HK Voice/ Video minute refers to incoming calls and outgoing calls which 3customer in Macau/ HK received from/ made to Macau/ HK number.
6.

Intra SMS refers to SMS which 3customer in Macau/ HK sends to 3customers.
7.Owl hour full speed unlimited data is applicable for 00:00-07:00 daily. Usage details please refer here.
8.The China Number is only applicable for receiving message and calls (Standard roaming fees will be charged for calls received outside Macau/ HK). Each number can only apply for either the Macau-HK 1-Card-2-Numbers, the Macau-China 1-Card-2-Numbers or the China Number Service. The China Number Service required real-name registration, please refer to here.
9.Standard tariff will be charged after promotional contract expired / ended. Please refer to here for details of 4G Basic Tariff Plans.
• Talk time consumption of any call and talk time chargeable value-added service will be rounded up to the nearest minute.
• All usage is subjected to 3Macau Service Usage Policy.
• Please approach our 3Shop staff or call 3Customer Services Hotline for more details.
• 3Macau reserves the right to change the contents of the above offers and details without giving prior notice.
• If there is any inconsistency between the English and Chinese versions, the Chinese version shall prevail.